Used GEA Westfalia Disc Separator SDC130-76-107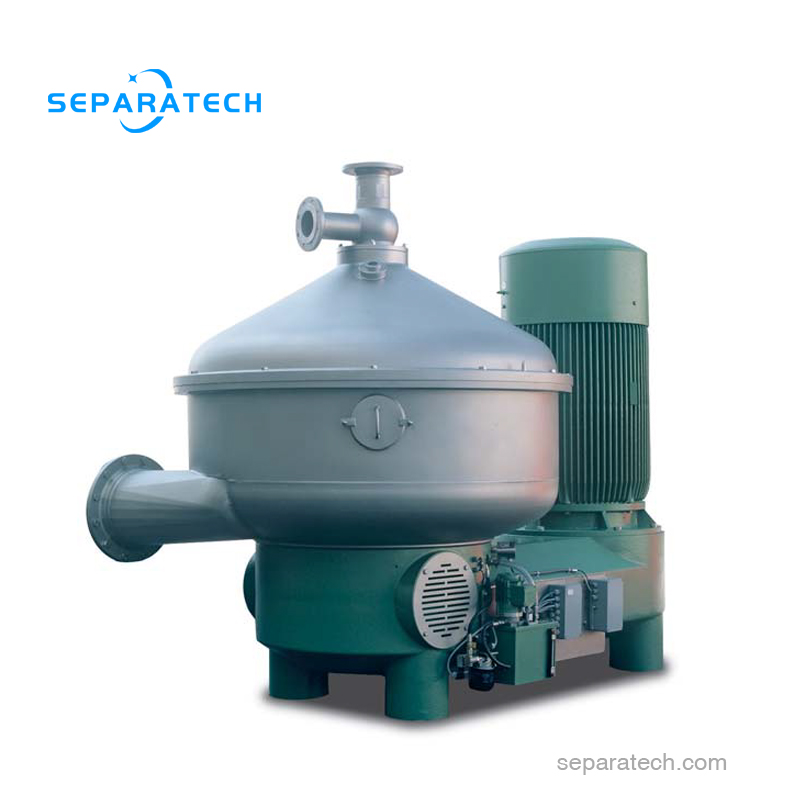 Disc Separator SDC130-76-107
Manufacturing year: 2006
Rated capacity feed: Max. 250 m3/h
Bowl speed: 4500 rpm
Number of nozzles : 18
Motor: 132 Kw
Disc Separator SDC130-76-107 is a nozzle separator. it has been designed for continuous starch concentration and clarification. If the bowl is equipped with an additional wash water system also a starch washing takes place. This nozzle separator is designed in 2-phase design, with wash water.
The product is fed into the machine through a closed-line system.
The separated solids (concentrate) are continuously discharged through nozzles into the concentrate catcher where they flow off under gravity. The clarified liquid is pressure-discharged via centripetal pump through a closed line system. The self-cleaning bowl makes the machine suitable for fully automatic cleaning-in-place.
The frame is made of cast iron. Power is transmitted directly to the bowl spindle by a special 3-phase AC motor via a flat belt.
Oil lubrication is performed by an external oil lubrication system. An oil filter is fitted in the lube oil feed. All parts coming into contact with the product and ejected solids are made of Cr-Ni-Mo stainless steel, the gaskets are made of rubber-elastic materials (elastomers).
Operating principle
The product flows through feed into the inlet chamber of the bowl and, accelerated by ribs, is distributed evenly into the rising channels of disk stack .Separation takes place in the disk stack under the influence of centrifugal force.
The disk stack consists of a large number of conical disks placed on top of one another. The narrow disk interspaces split the liquid into thin layers. This shortens the settling path for the solids particles. The latter are flung against the underside of the disk above and then slide towards the periphery into concentrate space of the bowl.
The specifically light liquid
– is conveyed to the center of the bowl,
– flows upwards to the centripetal pump chamber and
– is then discharged under pressure by means of the centripetal pump.
The separated solids (concentrate) are continuously discharged into concentrate collector through nozzles. The concentration depends on
– the throughput capacity,
– the feed concentration,- the nozzle diameter and
– the bowl speed.
The desired concentration can be adjusted by replacing the nozzles and regulating the throughput capacity. For determining the nozzle diameter. The concentrate flows off under gravity at discharge.