Used GEA Westfalia Disc Separator SDA260-76-003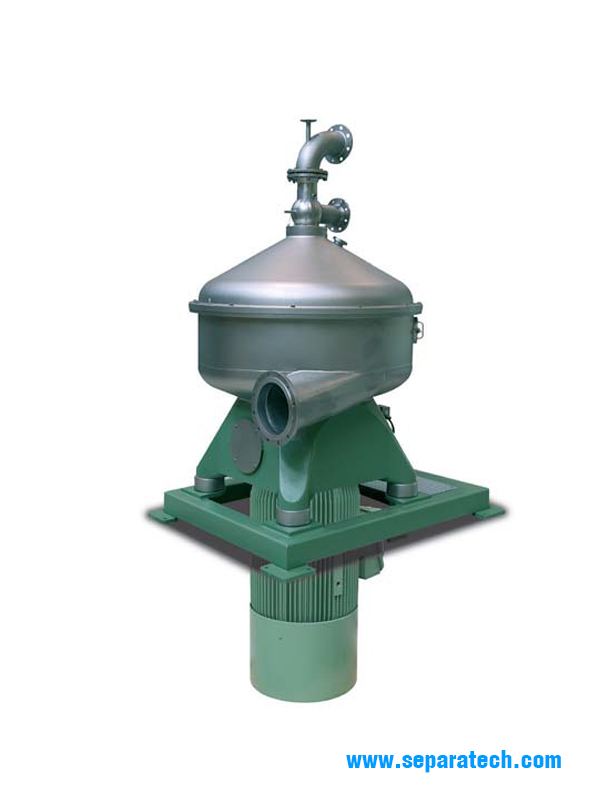 Disc Separator SDA260-76-003
Applications
This Disc Separator SDA260-76-003 with nozzle bowl has been designed for continuous starch concentration and clarification. the bowl is equipped with an additional wash water system for starch washing. It is in 2-phase design.
Technical specifications
Manufacturing year: 2011
Rated capacity feed: Max.350 m3/h
Bowl speed: 3600 rpm
Number of nozzles: 20
Motor: 250 Kw
Weights: 6700 Kg
Working principle of Disc Separator SDA260-76-003
The product is fed into the machine through a closed-line system. The separated solids (concentrate) are continuously discharged through nozzles into the concentrate catcher where they flow off under gravity. The clarified liquid(s) is/are pressure-discharged via centripetal pump(s) through a closed line system. The self-cleaning bowl makes the machine suitable for fully automatic cleaning-in-place.
The frame is made of cast iron. The power is transmitted directly to the bowl spindle by a 3-phase AC motor with frequency converter control via a torsion ally elastic clutch. Oil lubrication is performed by an external oil lubrication system. An oil filter is fitted in the lube oil feed. All parts coming into contact with the product and ejected solids of this Disc Separator SDA260-76-003 are made of Cr-Ni-Mo stainless steel, the gaskets are made of rubber elastic materials (elastomers).
Nozzle centrifuge for starch process
To achieve concentration and separation with maximum efficiency, nozzle centrifuge feature oversized nozzles and larger openings between the discs. The centrifuge design uses a special recirculation system, with a return flow that is a uniquely effective way to control the separation and/or concentration process, via the underflow draw-off valve.
To reduce maintenance costs and minimize repair downtime, the bowl is supported by an overhead bearing cartridge that is distinctive for its extended service life and rapid, easy replacement.
This Disc Separator SDA260-76-003 therefore widely used in the maize starch industry for mill stream thickening, primary separation, gluten thickening and the clarification of middlings.