Used Alfa Laval Decanter Centrifuge FOODEC 300 [90% NEW]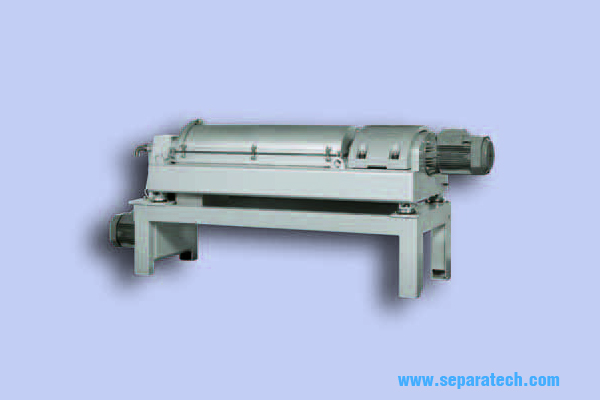 Decanter Centrifuge FOODEC300 Application
Alfa Laval Foodec decanter centrifuges are designed for food and beverage applications where good hygiene practices are essential in order to comply with strict sanitary regulations.
This decanter centrifuge is in 2-phase separation design. It is ideal for use in the food industry in situations where the material being processed has to be separated into a liquid and a solids phase.
Technical data of Decanter Centrifuge FOODEC300
Bowl diameter: 353mm
Bowl speed: 4000 rpm
Motor power: 30 Kw
Feed temperature range: 0–100°C (32–212°F)
Manufacturing year: 2006 [never used after installation]
Operating principle
Separation takes place in a horizontal cylindrical bowl equipped with a screw conveyor. The product is fed into the bowl through a stationary inlet tube and is smoothly accelerated by an inlet rotor. Centrifugal forces cause instant sedimentation of the solids on the wall of the bowl. The conveyor rotates in the same direction as the bowl, but at a different speed, thus moving the solids towards the conical end of the bowl.
The Decanter Centrifuge FOODEC300 design enables the hydraulic pressure inside the bowl to improve scrolling through a narrow opening. Only the driest fraction of the solids leaves the bowl through the solids discharge openings into the casing. Separation takes place throughout the total length of the cylindrical part of the bowl, and the clarified liquid leaves the bowl by flowing over adjustable plate dams into the casing.
Direct Drive
Direct Drive is a unique system developed for automatic control of the differential speed between the bowl and the conveyor. This makes it easy to maintain the best possible balance between liquid clarity and solids dryness irrespective of variations in the feed.
Direct Drive comprises a new type of gearbox and variable frequency drive, which does not expose the bowl drive to parasitic braking power loss. The electrical installation is straightforward, power consumption is kept to a minimum, and accurate control is achieved within a wide range of differentials with no need to change belts and pulleys of Decanter Centrifuge FOODEC300.