Used Alfa Laval Disc Separator CHPX513SFD-34CG-50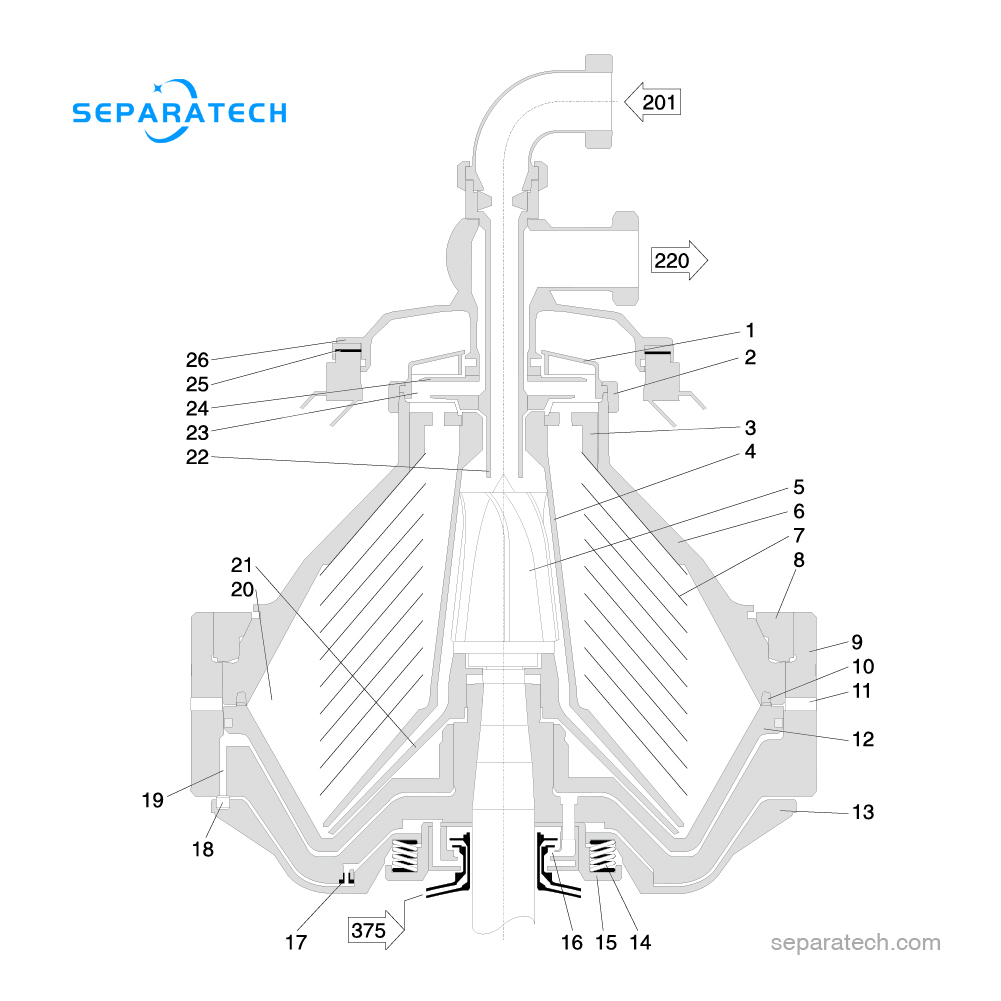 Disc Separator CHPX513SFD-34CG
Technical specifications
Manufacturing year:
Maximum hydraulic capacity: 20.000 l/h
Bowl speed: 6240 rpm
Motor: 22 Kw
Feed temperature range: 0–100°C (32–212°F)
1.Paring chamber top part
2.Small lock ring
3.Level ring (shrinked into bowl hood)
4.Distributor
5.Cap nut
6.Bowl hood
7.Bowl disc stack
8.Large lock ring
9.Bowl body
10.Bowl hood seal ring
11.Sediment port
12.Sliding bowl bottom
13.Operating slide
14.Spring
15.Spring support
16.Control paring disc device
17.Nozzle
18.Valve plug
19.Drain channel
20.Sediment space
21.Distributing cone
22.Inlet pipe
23.Paring chamber
24.Paring disc
25.Height adjusting ring
26.Discharge cover
201.Unseparated liquid inlet
220.Separated liquid outlet
373.Closing liquid inlet
375.Discharge and make-up liquid inlet
Disc Separator CHPX513SFD-34CG Clarifier bowl
Unseparated liquid is fed into the bowl through the inlet pipe (22) and is forced via the distributor (4) towards the periphery of the bowl of disc stack centrifuge.
When the liquid reaches slots in the base of the distributor, it will rise through the channels formed by the disc stack (7) where it is evenly distributed.
The liquid is continuously separated from the sediment as it travels towards the centre of the bowl. When the cleaned liquid leaves the disc stack it rises upwards and enters the paring chamber (23) via holes in the paring chamber bottom part (3). From the paring disc the liquid is pumped by the paring disc (24) and leaves the bowl through the outlet (220). Separated sediment, which is heavier than the liquid to be separated, is forced towards the periphery of the bowl and collected in the sediment space (20) outside the disc stack.