Used GEA Westfalia Disc Separator MSB14-06-076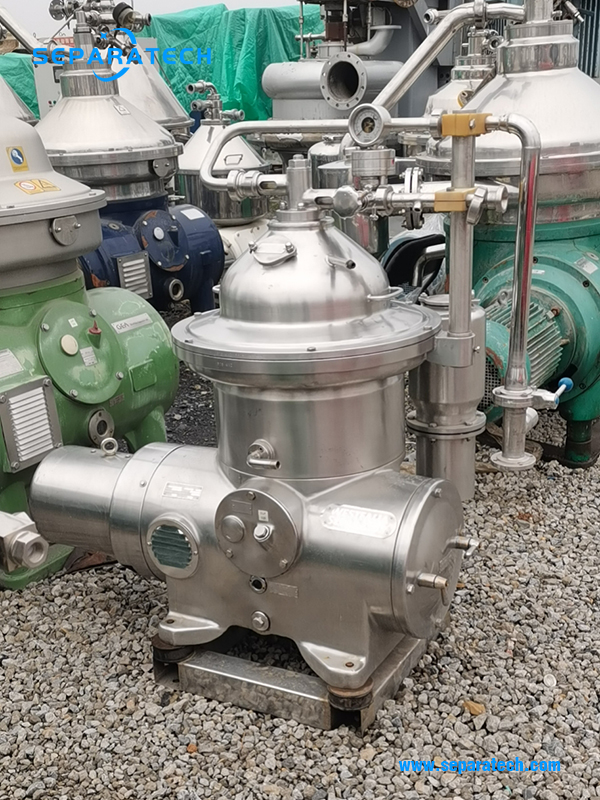 Disc Separator MSB14-06-076 has been designed for milk clarifying.
The self-cleaning bowl makes the machine suitable for fully automatic cleaning-inplace. Opening and closing of the bowl for discharging the solids takes place hydraulically using water.
The product is fed into the Disc Separator MSB14-06-076 through a closed-line system. A centripetal pump likewise discharges the clarified product. The product feed and discharges in the bowl are hydrohermetically sealed and do not feature mechanical seals.
The product connections can be designed according to DIN 11851.
The machine is driven by a 3-phase AC motor.
The cast iron frame and the motor of the machine are completely clad with stainless steel.
All product-contacting parts are made of stainless steel.
Technical specifications
Manufacturing year: 2011
Hydraulic capacity: 6,000 l/h
Bowl speed: 7570 rpm
Motor: 7.5 Kw 
Scope of delivery
• Control unit for the automatic program control
• 3-phase AC motor
• Motor control
Operating principles of Disc Separator MSB14-06-076
Separation takes place inside a rotating bowl. The feed is introduced to the rotating centrifuge bowl from the top via a stationary inlet pipe , and is accelerated in the distributor, before entering the disc stack. The distributor is designed especially to ensure smooth acceleration of the feed liquid. The separation of liquid-solids takes place between the discs, with the liquid phase moving through the disc stack to the centre and is led to the paring chamber, where it is pumped out of the rotor by means of a built-in centripetal pump. The solids is collected in the periphery, from where it is discharged intermittently into the solids collecting cover.
The solids discharge is achieved by a hydraulic system which at preset suitable intervals forces the sliding piston to drop down and thus opening the solids ports at the bowl periphery.
Used GEA Westfalia Disc Separator MSB14-06-076