Used Flottweg Tricanter Centrifuge Z6E-4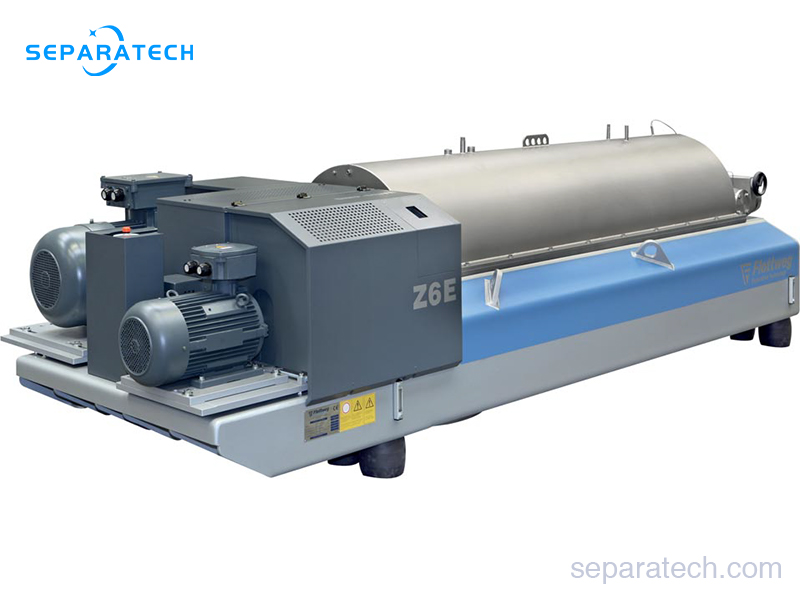 Applications
The Used Flottweg Tricanter Centrifuge Z6E-4/441 enables three-phase separation, i.e. the simultaneous separation of two immiscible liquids with different densities and one solid phase, provided that the solid phase is the heaviest phase. The most important difference from a decanter is the separate discharge of the two liquid phases. The FLOTTWEG TRICANTER discharges the heavy liquid through an adjustable impeller under pressure and the light phase by gravity. The adjustable impeller allows adjusting the separation zone and degree of separation within the machine during operation. This optimizes purity of the liquids and may possibly eliminate downstream equipment.
SCROLL AND DIFFERENTIAL SPEED CONTROL SYSTEMS AND OVERLOAD PROTECTION
Fluctuations in the solid concentration and throughput may cause a decrease in separation results, a machine blockage, or an overload of the centrifuge. To avoid problems and to fully utilize the capacity of the centrifuge, the differential speed needs to be continuously monitored and adjusted to the operating conditions.

The control systems for the differential speed which are based on the following principle:
1) The scroll torque is an indicator of the bowl solids load.
2) The load, and therefore the torque, should be kept at an optimum value.
If the torque exceeds the optimum value, the control system increases the differential speed to more quickly convey the solids out of the bowl until the torque decreases. Conversely, the differential speed is reduced when the torque decreases. This automatic control process ensures optimum separation during normal operation.
If a disruption in the system develops, an integrated two stage overload protection offers excellent security against clogging of the machine: If the increase in differential speed is not sufficient to compensate for a solids overload, the feed supply is stopped until the torque falls back below the set point. In the majority of situations, this is sufficient to remedy the overload without having to shut down the system. If this step is insufficient to keep the scroll torque from rising, the bowl drive is shut down when the torque reaches the second higher set point. As the bowl speed decreases, the torque is reduced and the machine will usually empty itself. Typically there is no need to manually remove the solids. Machines with a hydraulic drive or SIMP-DRIVE allow for solids discharge at full scroll torque even when the bowl is shut down.
Technical specifications
Max. bowl speed: 3200 rpm
Max. sediment density: 1.7 Kg/dm3
Bowl diameter: 620 mm
Differential speed: 1-52 rpm
Primary motor: 75 Kw
Secondary motor: 22 Kw
Manufacturing year: 2009
The Used Flottweg Tricanter Centrifuge Z6E-4/441