Used Alfa Laval Decanter Centrifuge FOODEC 200 [99% NEW]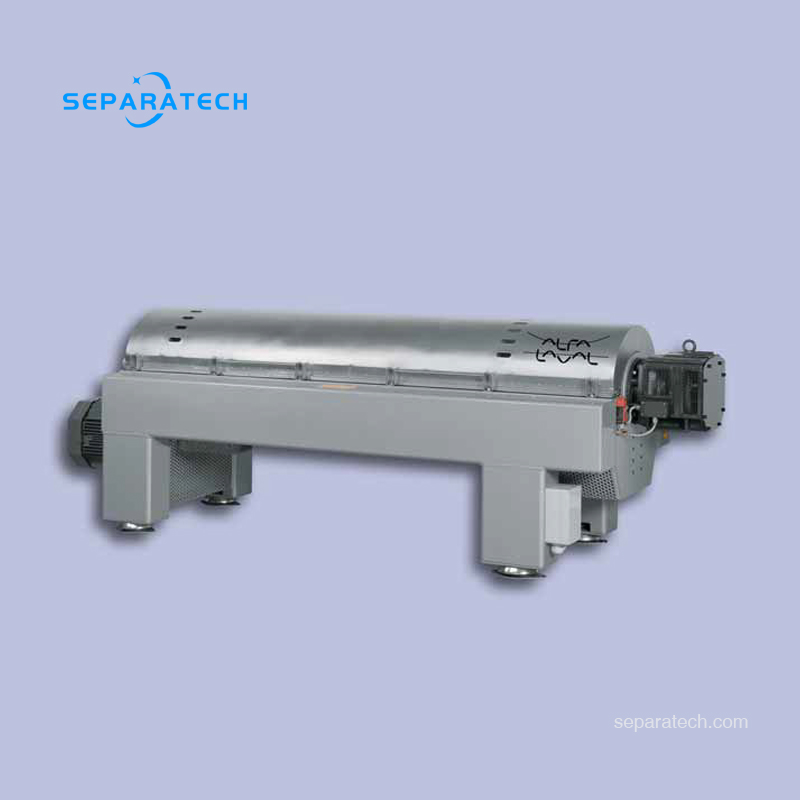 Decanter Centrifuge FOODEC 200
Alfa Laval Foodec decanter centrifuges are designed for food and beverage applications where good hygiene practices are essential in order to comply with strict sanitary regulations.
This decanter centrifuge is in 2-phase separation design. It is ideal for use in the food industry in situations where the material being processed has to be separated into a liquid and a solids phase.
Technical data of Decanter Centrifuge FOODEC 200
Bowl diameter: 280mm
Bowl speed: 4400 rpm
Motor power: 15 Kw
Feed temperature range: 0–100°C (32–212°F)
Manufacturing year: 2006 [never used after installation]
Drive system of Decanter Centrifuge FOODEC 200
The bowl is driven by an electric motor and a V-belt transmission drive. Start method is Direct-On-Line (DOL) using a mechanical clutch. Power is transferred to the conveyor by means of a two-stage planetary gearbox. The speed difference between the bowl and the conveyor is obtained by an efficient back drive system.
Operating principle of decanter centrifuge
Separation takes place in a horizontal cylindrical bowl equipped with a screw conveyor. The product is fed into the bowl through a stationary inlet tube and is smoothly accelerated by an inlet rotor. Centrifugal forces cause instant sedimentation of the solids on the wall of the bowl. The conveyor rotates in the same direction as the bowl, but at a different speed, thus moving the solids towards the conical end of the bowl.
The new Foodec design enables the hydraulic pressure inside the bowl to improve scrolling through a narrow opening. Only the driest fraction of the solids leaves the bowl through the solids discharge openings into the casing. Separation takes place throughout the total length of the cylindrical part of the bowl, and the clarified liquid leaves the bowl by flowing over adjustable plate dams into the casing.
More details of FOODEC 200, please contact us.