Centrifuge Parts for Disc Stack Centrifuge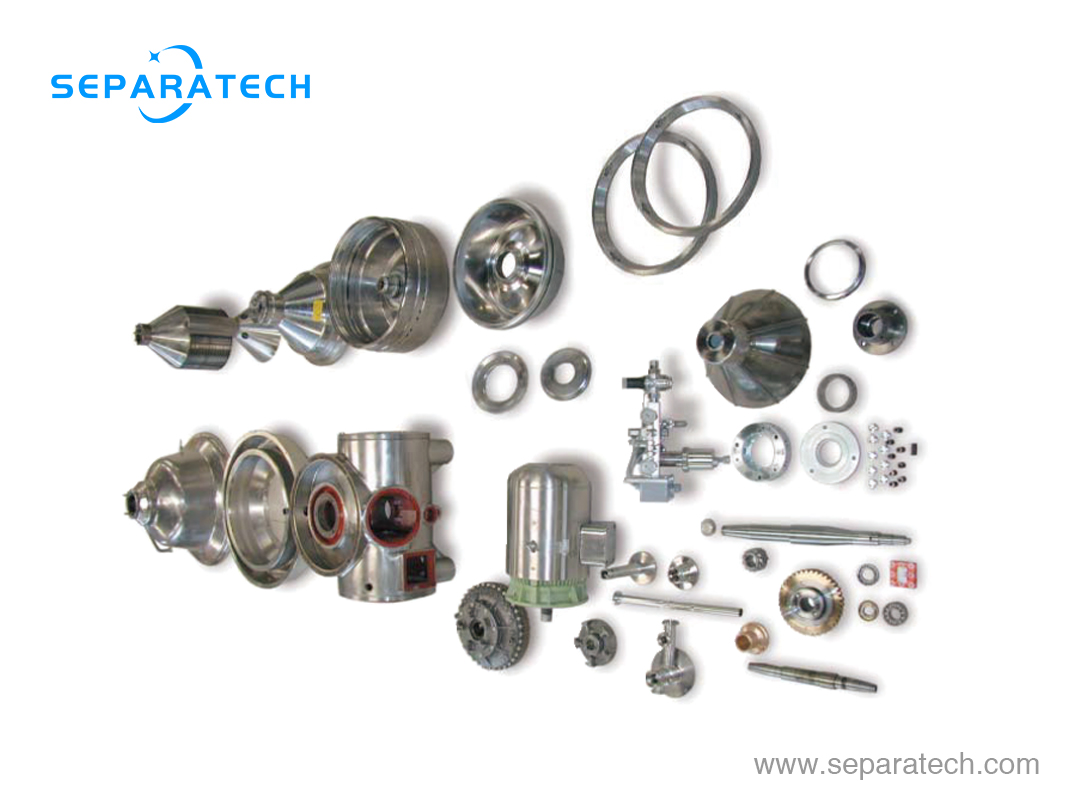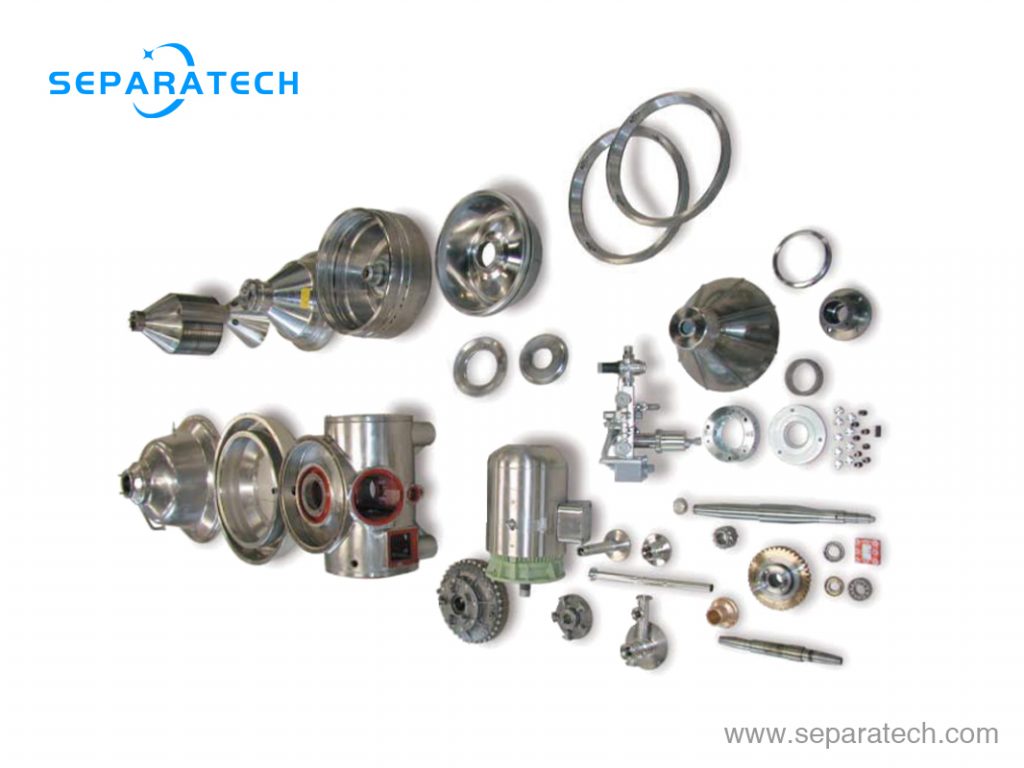 SEPARATECH specializes in original (OEM) and aftermarket centrifuge parts for disc stack centrifuges and accessories.
SEPARATECH is committed to providing the largest selection of spare parts in the industry and we are continuously increasing our inventory to meet the demands of our customers. All spare parts whether genuine or equivalent are fully compatible. All stock parts can be delivered rapidly and world-wide shipping is available.
Our disc centrifuge parts comply with the latest specifications and prolong lifecycle for your installation. On-going research and development ensure that you will always get the latest applicable parts and ensured reliability. Our supplied parts give you a true cost-efficient peace of mind.
We use state-of-art measuring equipment and design software to ensure that genuine products produced are of the highest quality. Using CNC manufacturing enables us to have lights out manufacturing, reducing costs, increasing accuracy and reliability. Our manufacture processes are extremely accurate and enables the company to satisfy all engineering and operational criteria of the original parts in fit, form and function. Our products are fitted with the original manufacturer parts that are associated with them and checked for fit and tolerance before parts are manufactured for stock.
Whether you are looking for aftermarket replacement disc centrifuge parts or genuine (OEM) separator spares and/or accessories, we are your best choice.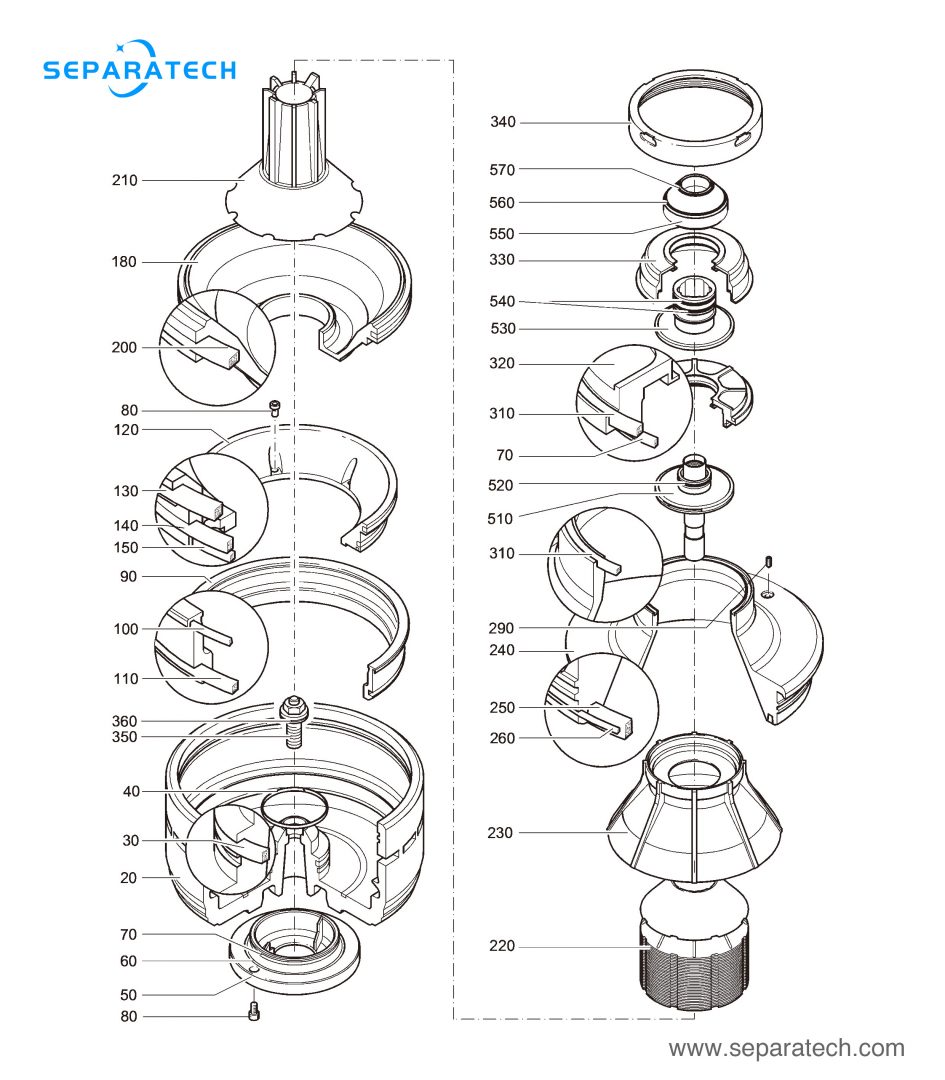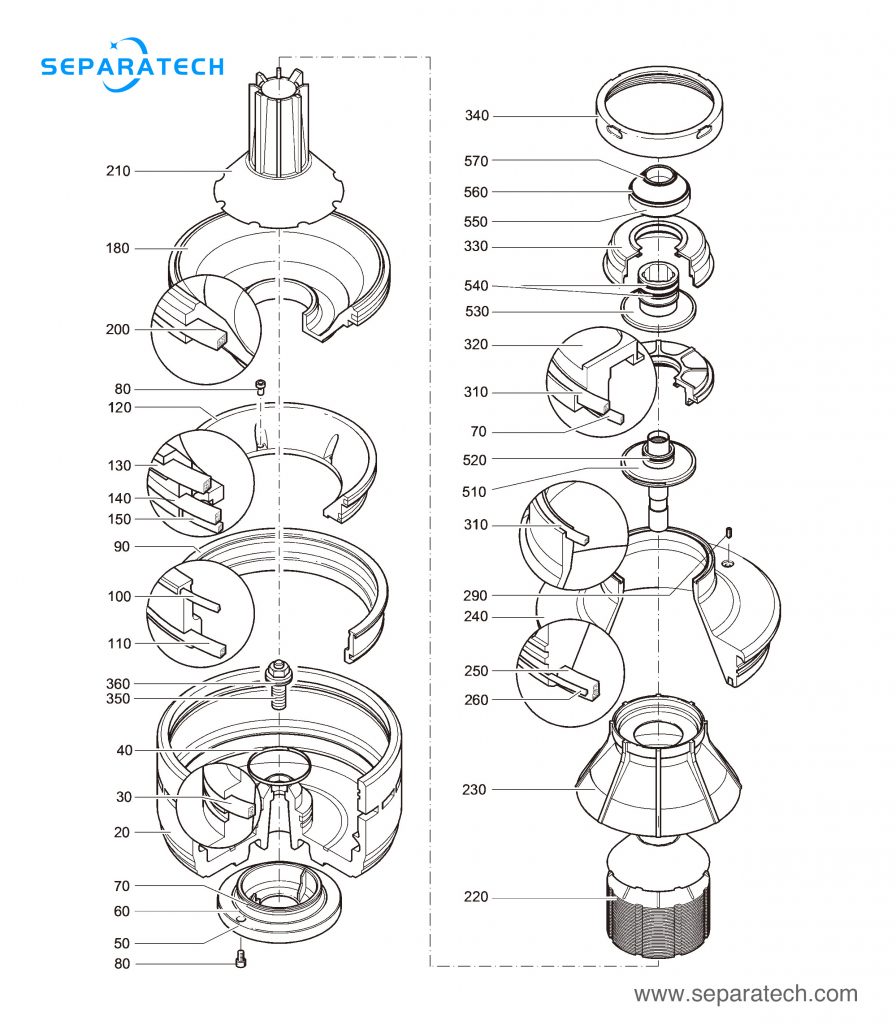 20 Bowl bottom, compl.
30 Gasket
40 Piston guide ring
50 Water chamber bottom
60 Gasket
70 Gasket
80 Allen screw
90 Annular piston
100 Gasket
110 Gasket
120 Closing chamber bottom
130 Gasket
140 Gasket
150 Gasket
180 Sliding piston
200 Gasket
210 Distributor
220 Disk stack, complete


230 Separating disk
240 Bowl top
250 Gasket
260 Gasket
290 Threaded pin
310 Gasket
320 Centripetal pump chamber cover
330 Centripetal pump chamber cover
340 Lock ring
350 Spindle screw:
360 Gasket
510 Centripetal pump, compl.
520 Gasket
530 Sensing liquid pump
540 Gasket
550 Spacer ring
560 Gasket
570 Gasket
SEPARATECH provides high quality alternative spare centrifuge parts for disc stack centrifuge that are compatible with the following brands:
Conventional centrifuge parts
The following sets of spare parts are available depending on the respective technical maintenance intervals:
– Set of spare parts "bowl and hood" for operation of 1 year or 8000 hours
– Set of spare parts "Drive" for operation of 1 year or 8000 hours
– Set of spare parts "Drive" for operation of 2 years or 16,000 hours
The maintenance schedule forms the systematic maintenance basis for the use of these sets of spare parts.