Used Pieralisi Decanter centrifuge Jumbo 4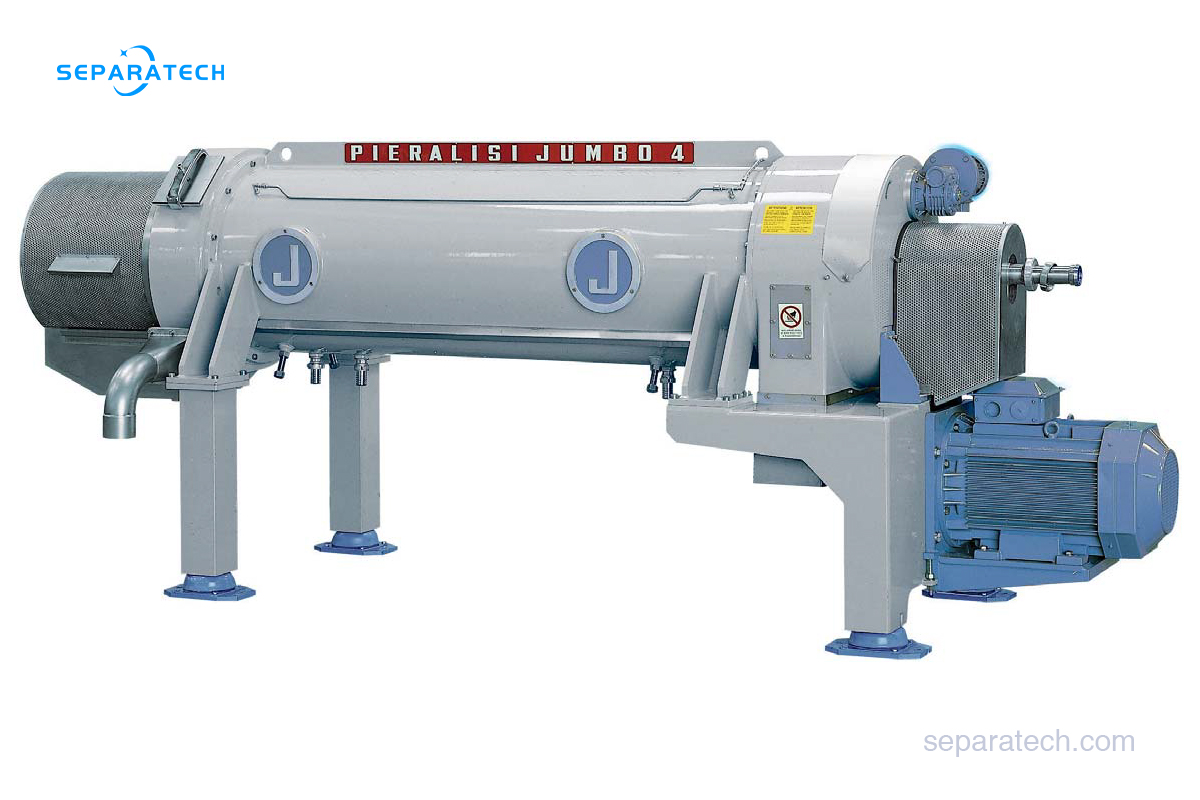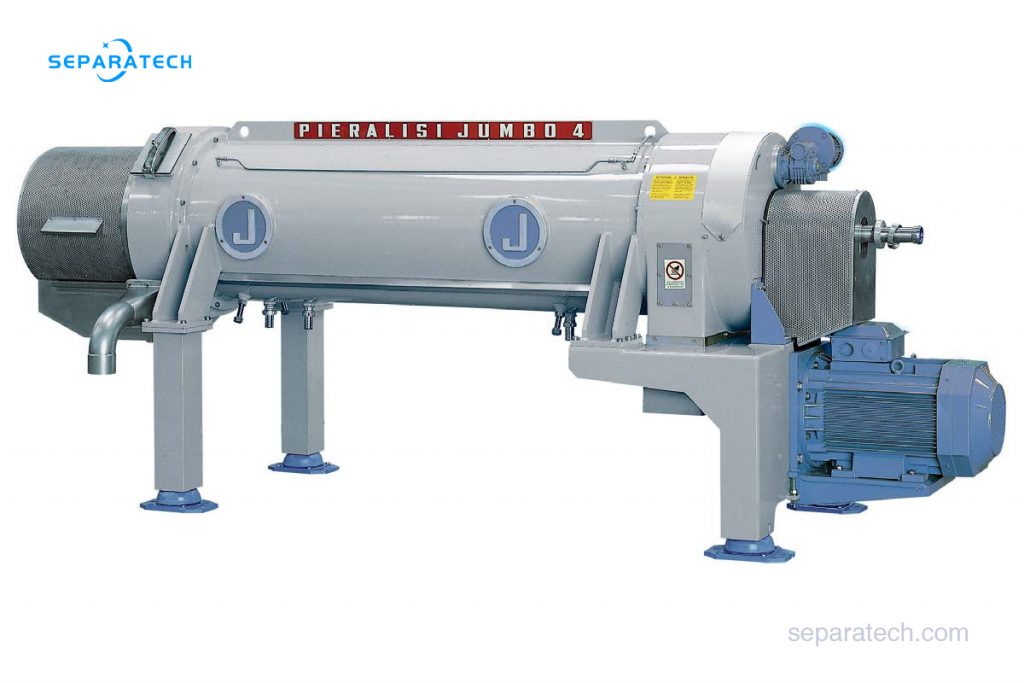 Pieralisi Decanter centrifuge Jumbo 4
The Pieralisi Jumbo 4 decanter centrifuge is a continuously operating horizontal solid wall bowl centrifuge for maximum dewatering requirements of municipal and industrial wastewater sludge. The frame is of open design with either gravity or pressure discharge of the clarified phase.
Technical specifications
Max. bowl speed: 3350 rpm
Bowl diameter: 470 mm
Max. sediment density: 3.0 Kg/dm3
Primary motor: 45 Kw
L/D = 5.12
G-force: 2950
Features
– special device to regulate the liquid ring inside the bowl
– platform and cylindric bowl housing made in carbon steel
– patented sludge-scraper for continuous discharge of dewatered sludge from the solids discharge chamber
– special wear-proof protection on peripheral screw area
– electronic safety device for overload protection, with optional visual or acoustic alarm signals
– hard-metal protection bushes on solids discharge holes
– electronic revolution counter, as standard equipment
– optional device for continuous modifications of the revolution speed of the internal screw.
Working principle
Separation takes place in a horizontal cylindrical bowl equipped with a screw conveyor. The feed enters the bowl through a stationary inlet tube and is accelerated smoothly by an inlet rotor. Centrifugal forces cause sedimentation of the solids on the wall of the bowl. The conveyor rotates in the same direction as the bowl, but at a different speed, thus moving the solids towards the conical end of the bowl. The new design enables the hydraulic pressure inside the bowl to enhance scrolling through a narrow opening. Only the driest fraction of the cake leaves the bowl through the solids discharge openings into the casing. Separation takes place throughout the total length of the cylindrical part of the bowl, and the clarified liquid leaves the bowl by flowing over adjustable plate dams into the casing.
Decanter centrifuge provides solutions to any technological solid-liquid and solid-liquid-liquid separation problem, through decanters which are placed on a large variety of application fields with a wide range of flow rates.
A main motor connected to the decanter shaft drives the bowl rotation. The extremely high centrifugal force generated inside the bowl is proportional to the rotational speed and to the bowl diameter.
The product to be clarified enters through the feeding pipe, it passes in the diffuser to be distributed at the centre of the bowl and then it is accelerated. The centrifugal force acting on the solid particles is responsible for the solid-liquid separation.