Used GEA Westfalia Nozzle Separator HFA65-01-477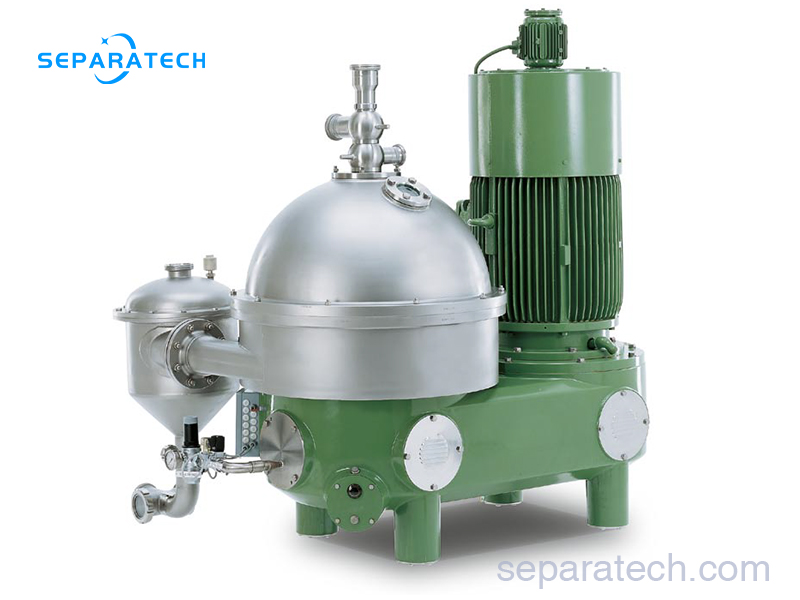 Used GEA Westfalia Nozzle Separator HFA65-01-477
Yeast extract and other fermentation products
The HFA65-01-477 This separator has been designed for processing yeast extract and other fermentation products.
The product feed and product discharge in the bowl are hydrohermetically sealed and do not feature mechanical seals. The feed and discharge are rated to suit the application. The double-walled design of hood and solids catcher makes the separator noise insulated and coolable.
The machine is driven by a 3-phase AC motor via a flat belt.
All parts coming in contact with the product and discharged solids are made of Cr-Ni-Mo stainless steel.
The product flows through the hydrohermetic feed into the bowl and is clarified in the disk stack. The clarified liquid is conveyed to the outlet foam-free and under pressure by the centripetal pump. The separated concentrate flows through channels to the special Westfalia Separator viscon nozzles for viscosity-dependent concentration regulation. They permit a virtually constant biomass concentration also in the case of fluctuating feed volumes and concentrations.
Partial or total ejections can be performed for cleaning purposes by an hydraulically operated ejection system.
The self-cleaning bowl makes the machine suitable for fully automatic cleaning-in-place. The feed and discharge are through a closed system.