Used GEA Westfalia Disc Separator SC20-36-076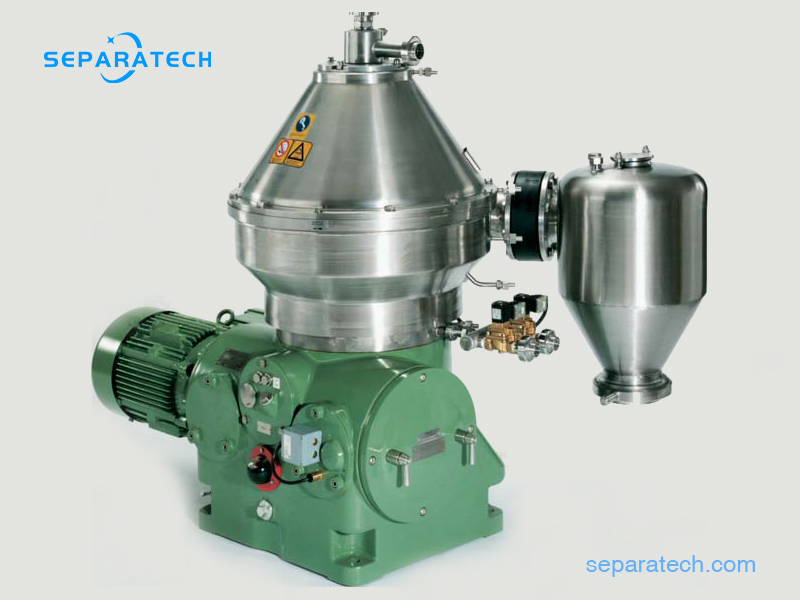 Disc Separator SC20-36-076 Applications
This centrifuge has been designed for the clarification of beverages. With self-cleaning bowl ejection system, this machine is suitable particularly for applications where the prime target is high yield. High solid contents likewise present no problem. The feed and discharge are in a closed system. The centripetal pump in the discharge generates adequate pressure to convey the product, for example, into the storage tank. The feed and discharge are rated to suit the respective application. The machine is driven by a 3-phase AC motor. Power is transferred to the bowl spindle via a clutch and worm wheel gear. All product-contacting parts are made of stainless steel; the gaskets conform to the requirements of food operations.
Technical specifications
Manufacturing year: 1998
Rated capacity: 11000 L/h
Bowl speed: 7510 rpm
Motor: 11 Kw
Self-thinker control system
Sensing sediment level in bowl
Operating principles of the Disc Separator SC20-36-076
The product enters the bowl via the inlet and is clarified in the disc stack of disc bowl centrifuge. Centripetal pump then conveys the clarified liquid under pressure to outlet, where it is discharged without foam. The separated solids collect in sediment holding space and are ejected periodically via ports. Operating water is used only during the actual process of ejection.
Self thinker control
Self thinker control by sensing the solids level in the bowl. A small amount of liquid is diverted via separating disc. It is clarified by discs and conveyed to the flow switch by means of sensing liquid pump. If is then recycled back into the feed. If the sensing liquid inlet at the separating disc becomes blocked by an accumulation of solids in the sediment holding space, a proximity switch installed on the flow switch passes an impulse to the control unit which then initiates a solids ejection operation.