Leaf filter elements are the most critical parts of either vertical pressure leaf filter or horizontal pressure leaf filter.
Generally, pressure leaf filters, or pressure vessels consist of 10 to 60 leaves, stacked inside a vertical or horizontal vessel. SEPARATECH supply various leaf filter elements of pressure leaf filters in different structures.
Leaf filter elements are the filter media for both Vertical Pressure Leaf Filter and Horizontal Pressure Leaf Filter. These filter media are available to suit any pressure leaf filtering application, and are specifically designed to assure:
– Fast filtration rate based on sufficient drainage area
– Years of dependable service due to rugged construction
– Materials compatibility with the process liquid and/or solids at the operating temperature
Leaves from SEPARATECH assuring you of peak filtration performance and the most cost-effective filtering operation.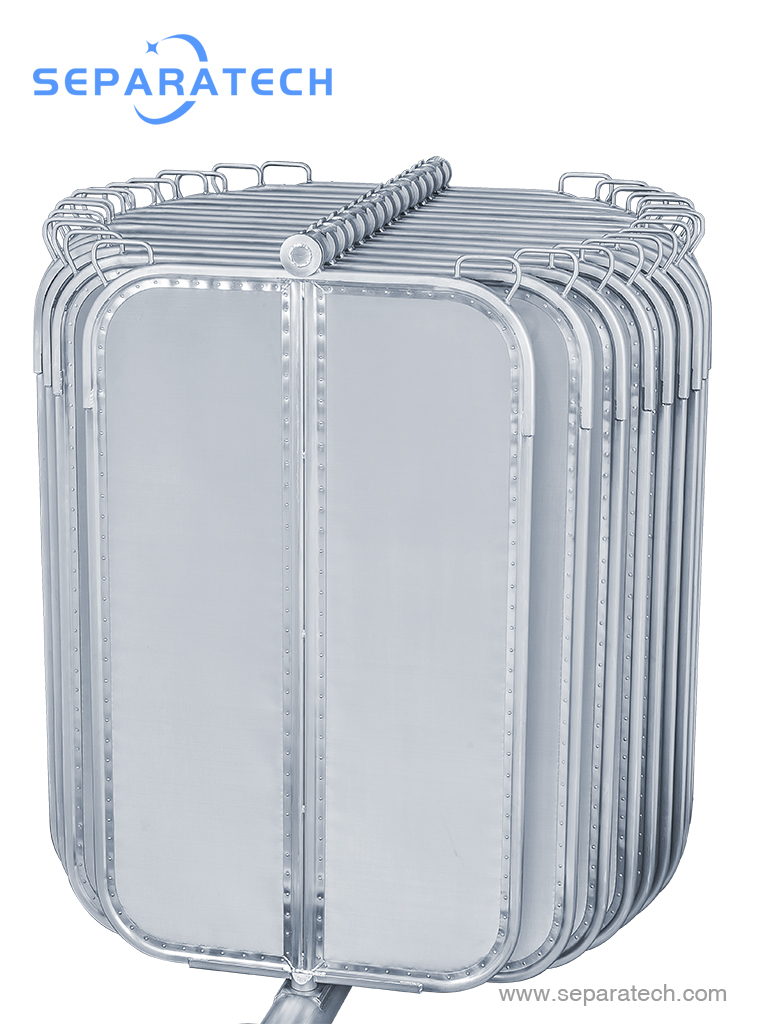 Vertical leaf filter elements
Vertical leaves are used exclusively in horizontal vessels and most often in vertical vessels. This leaf arrangement allows for quick release of the filter cake and discharge by gravity. Constant flow throughout the cycle is required to maintain cake formation.
Horizontal leaf filter elements
Horizontal leaves are used to permit interrupted flow. During periods of low or zero flow, the cake is held on by gravity. A sluicing discharge is used to wash the cake off the leaves. A tailings leaf is available with this configuration.
Leaf Constructions
Many styles of leaves with different materials of construction are available to match specific applications. Round leaves for vertical vessels and rectangular leaves for vertical vessels are made of a frame containing drainage material welded to a nozzle. Metal screen can be included inside the screen or fabric media can be placed over the entire leaf.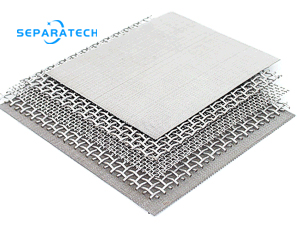 Various wire mesh
The Plain Weave is the most commonly used and simplest wire cloth weave. Each warp wire (wire running-parallel to length of cloth) passes alternately over and under the wires running traversely through the cloth (fill or shoot wires) at 90 degree angles. It has an extremely wide range of applications.
The Dutch Weave is produced by the use of coarse mesh (mesh wire, woven wire mesh, wire mesh basket) in the warp and a fine mesh with relatively smaller wire in the fill. This weave results in greater strength with very fine openings and is primarily used as a filter cloth. The shape and position of the openings aid particle retention and increase filter cake formation.
The Twilled Weave is produced by passing each fill wire alternately over and under two warp wires. The pattern is staggered on successive warp wires, giving the appearance of parallel diagonal lines. This weave allows the use of proportionately heavier wires in a particular mesh count (number of openings per lineal inch) than is possible in plain weave. This cloth has a wide application capable of supporting greater loads and finer filtrations.
The Twilled Dutch Weave is produced by a combination of the features of the Dutch Weave and the Twilled Weave. Fill wires are passed alternately over and under two warp wires forming a fine mesh in one direction and a coarse mesh (mesh wire, woven wire mesh, wire mesh basket) in the other. This type of weave is capable of supporting greater loads than the Dutch Weave, with finer openings than the Twilled Weave. It is used in applications where the filtering of heavy material is necessary.

Contact SEPARATECH today for new construction or repair to existing vertical, horizontal, circular or roto-leaves for any model filter.